The wild coast of costa rica
The Caribbean side has some what a rough reputation of petty theft and bad weather. We didn't experience that.
Sure, it rained occasionally (and when it did you couldn't go out!), but it was often over in an hour or so. Locals say that the rain is more spread out during the year. This is also what makes this place so magical green and full of life! The jungle spreads all the way down to the sea making mysterious beaches full with funny animals for the whole family to watch.
The trees by Playa Chiquita, Punta Uva and Manzanillo give big chances to watch sloths and howler monkeys between sunbathing and the snorkeling.
It's a great place for family activities and the kids loved it!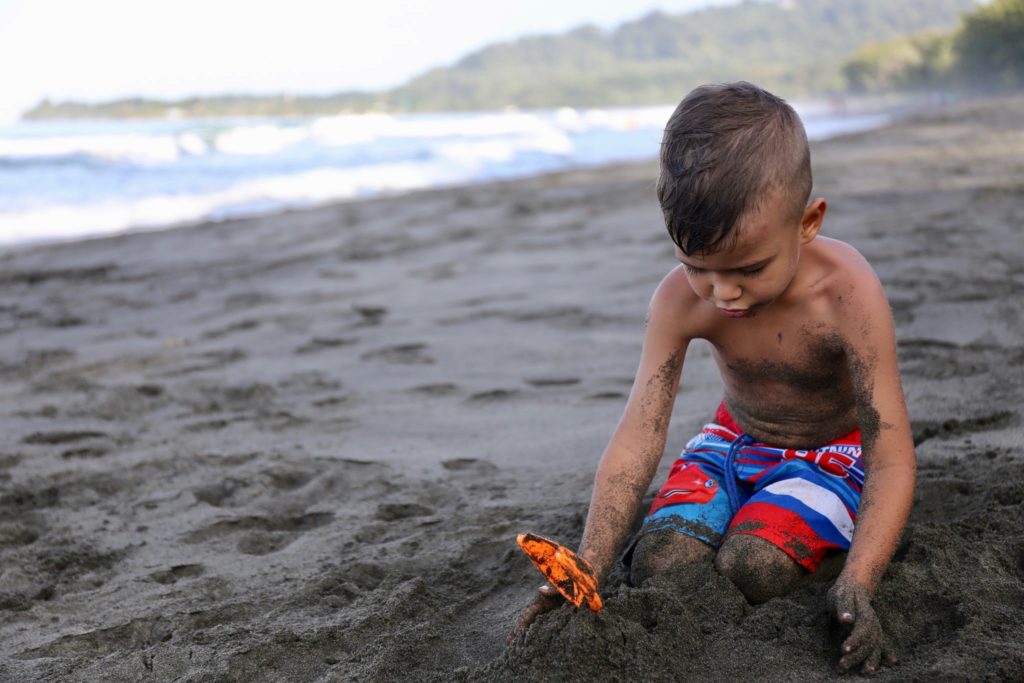 We ended up on Playa Negra (Black Beach), close to the pacific coastal town of Puerto Viejo. This beach is really beautiful and it is really black as the name suggest! 
It is a bit remote, it takes some 20 – 30 minutes walking (best walk though!) on the beach to reach the small town. The kids loved to play in the sand, but be aware of the ocean. The water is quite rough with big waves along with some strong currents which makes it dangerous, not only for kids that don't swim so well, but also for adults.
There are plenty of nice beaches. For small children there are some natural pools in Puerto Viejo. Punta Uva is also children friendly and has a fresh water coming in from a river. So here you can chose salt or fresh water.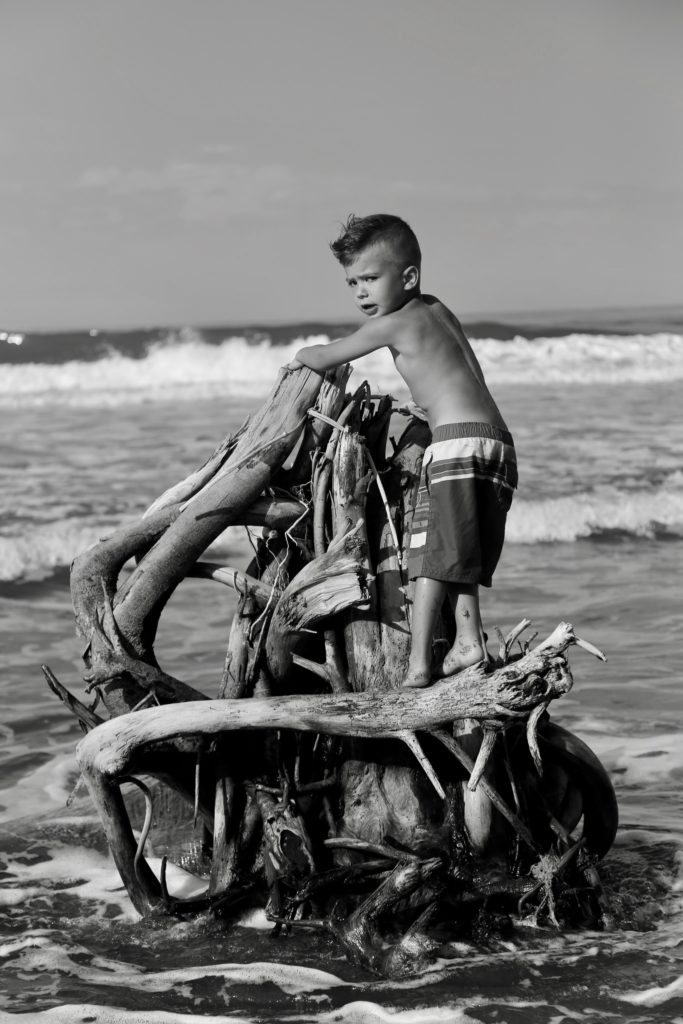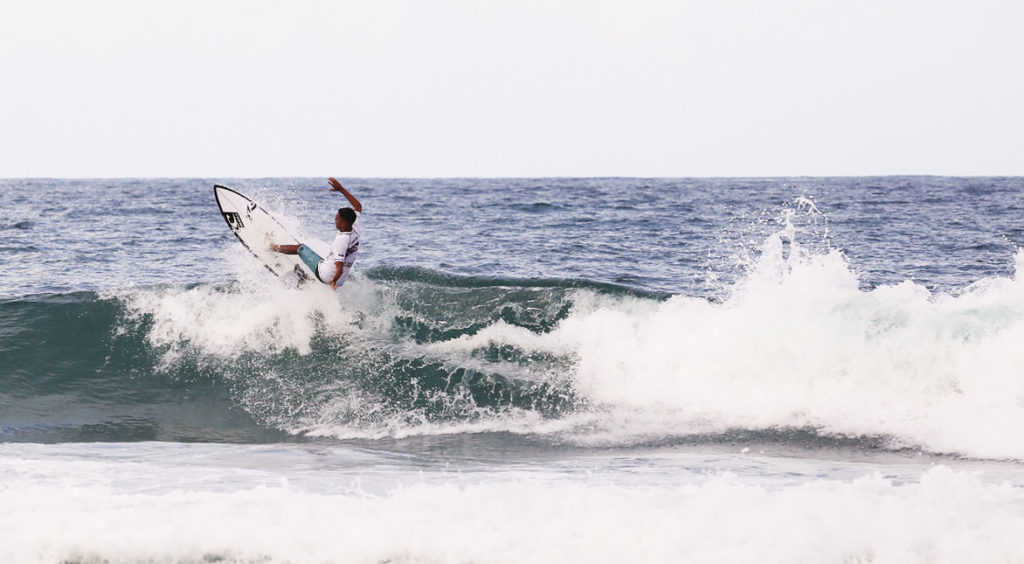 Surfs up! Costa Rica in over all is a great spot learning to surf. Different beaches has different difficulty rates when it comes to waves. For beginners we recommend Playa Negra close to Puerto Viejo where it is often more calm and gives time to practice getting up on the board and stay up! A good idea for first timers is to get a intro course. There are usually instructors sitting and waiting for costumers on the beach. For the more advanced surfers Playa Cocles is the place to go to. Also further up on Playa Negra have som good waves.
Getting close to the locals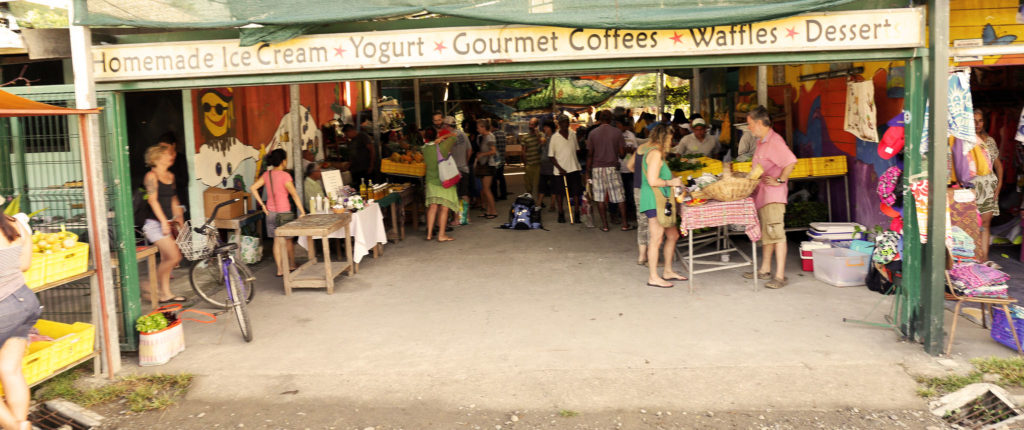 Close to the beach and bus "station" in Puerto Viejo you find the Sunday market where  both locals and foreigners who permanent live in Costa Rica sell their herbs, fruits, cheese or other delicate things to eat. It is more a market turned to tourists and foreigners, but it is nice to chat with all people, try locally grown and ecological raw food.
Other then that, the town it self, is more of a foreigners spot. Especially backpackers or they who seek something off route find their way here. locals live further in and outside, for example in Limón or in remote areas in the mountain forest of Punta Uva or such. Shopping is ok, but we noticed pretty quickly (since our luggage was lost for 8 days and all our children cloths along with it) that the town does not have a lot of cloths for kids. Not even bathing shorts. So we had to go all the way to Limón for that (not a nice town, but there is a few shops for children that actually are pretty good). 
The locals are very friendly and helpful. If you have the chance to get to know some of them it will open up your experience in a totally now way (this goes for the most of countries 🙂 ). Some of them have big farms or lands to cultivate fruits, vegetables and animals. A suggestion is to ask your taxi driver. We became good friends with one who was of Bribri descendant and his family had a farm with bees to produce homemade honey. They also had cacao trees and a production of chocolate (there are many chocolate courses offered, but for better prices it's better to go to a tico).